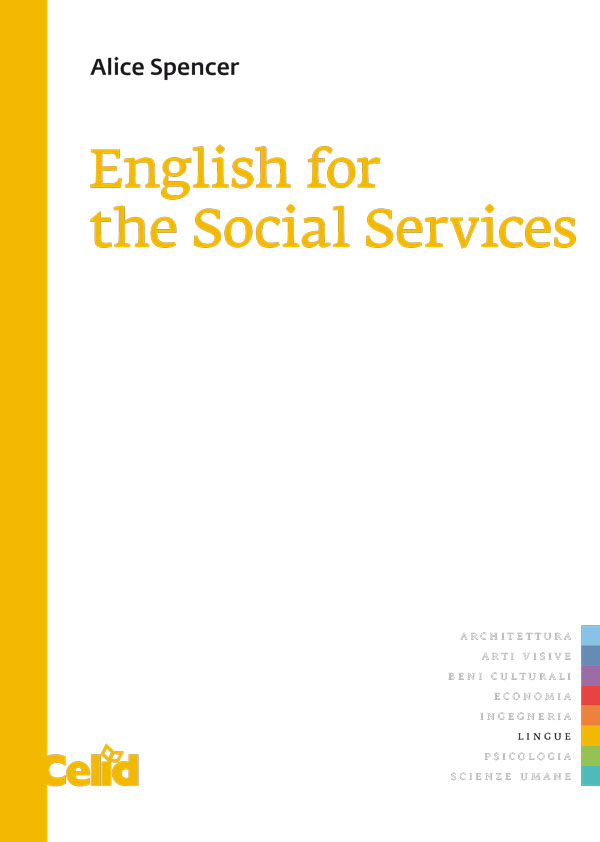 Alice Spencer
English for the Social Services
anno di pubblicazione 2022
| | | | | | |
| --- | --- | --- | --- | --- | --- |
| | cartaceo 120 pp | | 9788867892396 | 12,00 € | |
English for the Social Services is a specialised language textbook designed to support the innovative blended learning programme of the same name launched at the Turin University Language Centre in 2004. Since 2019, in addition to receiving traditional university credits, the students involved in this programme have been awarded Open Badge digital certifications ranging from the Common European Framework levels A2 to C1. This new approach to language accreditation in ESP has been documented in various high-impact articles and presentations at international conferences.
GENERAL INTRODUCTION
Using Open Badges for University-Level ESP Training: The Certificate of Competence in English for the Social Services at CLA-UNITO 7
About Open Badges
Language accreditation and university examinations
Blending the global and the local
Documenting and acknowledging specific skills and experiences
Flipping the learning process and fostering academic community
Combining hard and soft skills
Conclusion
References
AN INTRODUCTION TO SOCIAL WORK
1.1 Social Work Job Description
1.2 Listening: Social Workers as Superheroes
1.3 A Brief History of Social Work in the UK
CHILD AND FAMILY SUPPORT
2.0 Introduction
2.1 Divorce
2.2 Lone-/Single-Parent Families
2.3 Teenage Pregnancy
2.4 "Looked After" and "At Risk" Children
2.5 Domestic Violence
2.6 Child Abuse
2.7 Children in the Care System and the Social Worker's Dilemma
2.8 Research: The "Baby P Effect"
2.9 Summary of Target Vocabulary
OLD AGE
3.1 Problems Related to Old Age
3.2 The Aging Population and Its Social Consequences
3.3 Problems Facing Elderly Peopl
3.4 Formal and Informal Car
3.5 Residential Care
3.6 Elder Abuse
3.7 Summary of the Target Vocabulary
MENTAL ILLNESS
4.1 Introduction
4.2 Types of Mental Illness
4.3 Caring for the Mentally Ill
4.4 FOCUS: EATING DISORDERS
ADDICTION AND SUBSTANCE ABUSE
5.1 Different Kinds of Drug Use
5.2 The WHO (World Health Organisation) Definition of Addiction
5.3 Reasons for Substance Dependency
5.4 Drug Legislation in the UK
5.5 Substance Dependency Treatment
5.6 Marijuana: the Debate
5.7 Summary of the Target Vocabulary
5.8 Gambling Addiction
5.9 Online Gambling
POVERTY AND SOCIAL EXCLUSION
6.1 Homelessness
6.2 Listening: The Housing First Approach to Homelessness
6.3 Immigration and Asylum
6.4 Social Exclusion
Alice Spencer is a PhD in English studies from the University of Turin, where she now teaches academic writing and translation. As an undergraduate, she studied at St. Hugh's College, Oxford University. She is the author of three books and numerous articles on fourteenth and fifteenth century English literature, children's literature, EAP and ESP. She co-authored the ESP textbook English for the Social Services, the third edition of which came out in 2018.